Rob Göring
Rob Göring is a seasoned independent interim c-level executive, consultant, and boardroom coach. Rob is an excellent guide to bring organisations or MedTech products to new territories and market entry strategies, initial founding of German or Dutch organisations and developing and extending strategic partnerships.
As former CEO of a German eHealth organisation, he brings many years of experience in the international health(care) and e/mHealth industries. Rob is an experienced, results-driven senior international executive with extensive knowledge in medical grade software development, regulatory affairs (Dutch and German), general management, and Sales & Marketing.
He has held various international leadership positions in several organisations, both SME and large enterprises. Rob has an engineering background in Computer science and graduated at the University of Eindhoven and holds an M.Sc. in Management and Organisation of the university of Tilburg.
Rob is fascinated by the combination of new digital technologies and the impact this has on process and treatment efficiency, acceleration of med. professional skills and the accessibility of these skills for the patient. Quadruple aim is leading. But most important is the patient's wellbeing "we can't always make improvements on the patients' health but we sure make the patient feels healthier."
Rob is effective in bringing foreign health organizations into Germany, when facing large and multi layered challenges, in front of a Board of Directors, respected by med. professionals and technical staff, and ready to shoot for the 'target on the horizon'. He has strategic oversight, pragmatic solutions, and his fingers at operational targets. Excellent as a program manager, passionate about quality improvement and regulatory affairs.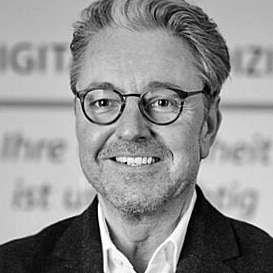 Contact
Rob Göring
De Schop 11
NL 5737 JM Lieshout
Netherlands
Phone: +31 6 411 39677
Social Media