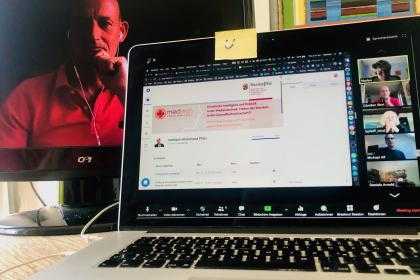 Translated with www.DeepL.com/Translator (free version)
While even the Munich Oktoberfest with over 6 million expected visitors was cancelled due to the coronavirus, online conferences and virtual events are shooting up like mushrooms. What does this mean and what do you have to pay attention to as an organizer? 
Organizers are venturing new ways from presence to online events. Some things are bumpy at first, but the learning curves are steep once you get involved, as the following examples show.
A lightning start – in two weeks to a major virtual event
Paul Simms, Chairman & CEO of eyeforpharma, tells me on the phone that the decision to hold the 2-day conference in Barcelona, which is planned for the end of March with more than 2,000 expected visitors, as a virtual event was only made two weeks before. After the pharmaceutical companies had imposed travel bans, a series of cancellations of participants came in over a period of about 6 weeks. The mood at the organizer was increasingly clouded. But the decision to use video transmission was a real jolt for the almost 10-member event team. They worked day and night to get the virtual event up and running. 
All speakers and many sponsors were involved. Hotels and flights were cancelled and the speakers had to be familiarized with the new conditions. Since the tickets were refunded or were free of charge, the number of registrations could quickly be expanded to 15,000. The original 2-day conference with 7 parallel tracks turned into a 5-day video broadcast with many live presentations, panel discussions and interviews. ZOOM was chosen as the platform and the partly pre-recorded presentations and interviews were streamed via VIMEO. The individual sessions had an average of 1,000 listeners, reports Paul Simms.
From 150 to 15,000 participants – it works!
But online conferences don't have to reach this size and the typical planning time is rather 6 weeks. I was booked as moderator for the 7th MedTech Rheinland-Pfalz on 12 May. About 150 participants and over 20 exhibitors were expected in Mainz for this conference. At the end of March, the Ministry of Economics of Rhineland-Palatinate informed me that this event was also to be cancelled. Marlen Peseke and Daniela Arnold at the Ministry of Economic Affairs reacted curiously to my suggestion to transfer at least some of the content online. After all, the topic of artificial intelligence and robotics in medical technology, as well as an area such as Rhineland-Palatinate, are virtually predestined for innovative online formats.
We met with Michael Alf, an organizer of virtual events in a video chat to understand the technical requirements. When Alf was still living in Australia in 2015, he started organizing virtual events and is well acquainted with the different possibilities and platforms. We are now preparing the event on May 12th in bilateral exchanges by mail and telephone and weekly video-jour fixes.
The MedTech Rheinland-Pfalz will be hosted on Hopin. This platform represents a conference and fair in a virtual world. After the participants have registered, they will arrive at the virtual reception area on 12 May from 12:30 pm. They will be able to visit more than 20 different exhibition booths and talk to the exhibitors in video chat and get information about their offers. Or they can go to the networking area to chat for a few minutes with another randomly selected participant – just like having a coffee at the trade fair reception – but in a private video room.
Networking & visiting the trade fair – it also works virtually
The presentations will start at 1 p.m. with a welcome by the Minister of Economics and a key note by Bart de Witte, followed by a panel discussion with four experts. After a virtual coffee break, which will once again provide an opportunity for a visit to the exhibition and networking area, the participants can go to one of the three parallel one-hour break-outs from 3 p.m. onwards, where topics will be discussed in greater depth. Afterwards there will be another break and the break-outs will take place again. Each participant can therefore attend two of the three sessions. During these sessions, listeners can ask questions or speak up via the chat – the moderator then opens the microphone for the questioner.
The preparation – What is different?
Preparation is similarly intensive as for analogue events, but it contains different facets. In addition to all content related program issues, which are comparable to those of a physical conference, virtual formats are not about room size, seating or catering, but about aspects such as the best web browser or pixel sizes for the virtual exhibition stands. Such technical details must be clarified with exhibitors and speakers in advance. Detailed briefings by Michael Alf and his team are available for this purpose. 
Virtual meetings – there is even more to it…
Alf observes how new online formats are constantly coming onto the market. He sees a future in playful applications in which participants are teleported into a virtual world with avatars and VR glasses. But in the life sciences and health industry, which still operates in a very traditional way, you don't have to go as far as with avatars. Why not simply create an advisory board as an online meeting via video conferencing?
Virtual congresses – just get started & gain experience… 
From my point of view, virtual meetings as well as physical meetings enable knowledge transfer and exchange among experts. What if the wave of global solidarity that we have just witnessed in the efforts to combat the pandemic were not a one-off event. What if experts from all over the world were to exchange ideas in virtual formats and develop solutions together? What if global crowd-intelligence really became tangible? In the Healthcare Shapers network, we are already practicing this with our approximately 100 partners, and not just since we founded our chapter in the USA in 2019. Experimentation generates new ideas and innovation. This is precisely why I believe that virtualization should now be boldly pursued rather than cancelled. I am happy to support you in this.
Autoren des Beitrags

Günther Illert
Günther Illert is a Strategy Coach. He organises and facilitates strategy dialogues with executives, teams, and organizations to solve complex and burning issues. With his strategic outside perspective, he advises, creates alignment, and catalyses change.